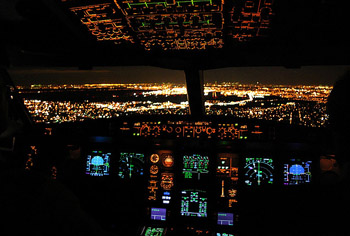 ATC-comm is provider of professional soundfiles to be used in full flight flightsimulators by a growing number of customers over the world. Modern advanced flightsimulators offer a detailed copy of the cockpit of an aircraft and simulates every detail of the flight including vision and sounds. Approaches and landings on airports all over de world are very realistic.

Chatter will increase the realism of the flights. Chatter is background communication between aircraft and ATC (Air Traffic Control) which can be heard during the various stages of the flight. An approach to JFK New York of Taipei Chiang Kai-Shek will be more realistic.
Chatter Facts:
Can be deliverd for ATC stations all over the world.
Can be delivered for various ATC station functions;
Delivery, Ground, Tower, Departure, Approach, Area Control Center, Flight Information Center etc.
Can be delivered for vasious Traffic Loads.