ATC-COMM Aviation Communication When Quality Matters!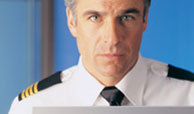 ATC-COMM is a specialist in Aviation Communication and delivers the following products;
Radiotelephony training.

ICAO standard phraseologies are developed to provide efficient, clear, concise, and unambiguous communications. Constant attention should be given to the correct use of ICAO phraseologies in all instances in which they are applicable. We provide professional phraseology training based on ICAO standards to pilots and aviation ground personnel. Our teachers and examiners are Air Traffic Controllers and Pilots and well experienced in the field.

Ask for a Free demo lesson now!

English screening.




ATC-Communication is able to screen studens online for their level of English. This important part of the total screening picture can be done very efficient and quick. ATC-Communication is experienced in this particular field and already has customers from major Flightschools around the world.

Training and Testing for the Language Proficiency Exam.

ATC-Communication is a specialist in training and testing Pilots and Air Traffic Controllers to meet mandatory testing and licensing requirements. We provide training and Language Proficiency Testing with an ICAO compliant test endorsed by JAR. Our teachers and examiners are Air Traffic Controllers and pilots from major airlines.

You can do the online Language Proficiency Exam now!